Shipping giant Maersk has taken the first step to source up to a third of its methanol supply from Spain, signing a framework agreement with the government in Madrid yesterday (Thursday) to jointly explore large-scale production of hydrogen-derived green fuels in the region.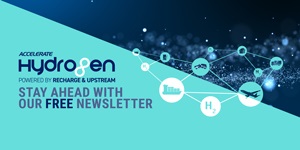 Hydrogen: hype, hope and the hard truths around its role in the energy transition
Will hydrogen be the skeleton key to unlock a carbon-neutral world? Subscribe to the weekly Hydrogen Insight newsletter and get the evidence-based market insight you need for this rapidly evolving global market
If the agreement is implemented in full, Maersk will source up to two million tonnes per year of e-methanol, made from renewable hydrogen, per year from Spanish producers, helping it towards the six million tonnes of the fuel it needs to meet its 2030 fleet emissions reductions target.
Methanol (CH3OH), typically made from fossil gas, is gaining ground as a low-emission shipping fuel as it is energy dense, easy to transport at ambient temperatures and much less toxic than ammonia. Burning methanol instead of heavy fuel oil also reduces nitrous oxide (NOx) emissions and eliminates sulphur oxide (SOx) emissions.
E-methanol is made with hydrogen made from renewable electricity — the "e" in e-methanol denotes electric — which reduces the well-to-wake emissions compared to both heavy fuel oil and conventional methanol.
Maersk, the first major shipping company to opt for methanol, will bring 19 methanol-fuelled ships into operation between by 2025, with the aim of displacing dirty fossil fuels in shipping.
However conventionally-produced methanol — with all the emissions associated with production — only reduces well-to-wake carbon emissions by around 7% compared to heavy fuel oil, according to standards and verifications firm Bureau Veritas. By comparison, e-methanol can reduce emissions by up to 90%, if the carbon atom is sourced from captured carbon.
The Spanish deal indicates that the Danish shipping giant intends to optimise the potential emissions reductions by opting for the cleanest possible version of the fuel — using the cheapest possible European green hydrogen.
Producers in Spain and Portugal, who benefit from high wind speeds and solar irradiation, can currently deliver green hydrogen at around $4.5/kg, according to Rystad Energy, undercutting producers of grey fossil gas hydrogen in Europe, which is currently suffering from the affects of high gas prices.
"We are very pleased to explore green fuel opportunities with the Spanish Government, as the country holds key characteristics to help solve this challenge with its great hydrogen ambitions and aspiring sustainability goals," said chief executive Soren Skou in Maersk. "At the same time, Spain encompasses significant renewable resources and is placed along key shipping routes."
Maersk does not specify which energy sources will be used for the production of the fuel, but the deal paves a way for production facilities in Andalucia, southern Spain, and Galicia, in the north-west.
The global maritime sector currently emits 940 million tonnes of CO2 per year — 2.5% of the world's greenhouse gas emissions — according to the International Maritime Organisation.
Methanol is a liquid at room temperature, unlike ammonia and hydrogen, with an energy density of 16MJ per litre — close to the 21-24MJ/l of liquefied natural gas, which is also used as a shipping fuel.
By contrast, liquid ammonia needs to be stored below minus 33°C and has an energy density of 15.6MJ/l; liquid hydrogen has to be cryogenically frozen at minus 253°C and contains 9.1MJ/l; while compressed hydrogen (at 700 bar) holds only 5.6MJ/l.