Canadian maritime company Waterfront Shipping says it has carried out the world's first net-zero transatlantic voyage, using methanol derived from hydrogen as its carbon-neutral fuel.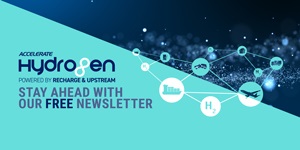 Hydrogen: hype, hope and the hard truths around its role in the energy transition
Will hydrogen be the skeleton key to unlock a carbon-neutral world? Subscribe to the weekly Hydrogen Insight newsletter and get the evidence-based market insight you need for this rapidly evolving global market
The Cajun Sun dual-fuel vessel — leased from Japanese shipping giant Mitsui OSK Lines (MOL) — left the town of Geismar, Louisiana, on 17 January and arrived in Antwerp, Belgium, on 4 February, the ship's operator revealed today.
Waterfront — a subsidiary of the world's largest methanol producer, Methanex — said the fuel for the journey consisted of a blend of carbon-negative bio-methanol derived from renewable natural gas (RNG) and so-called grey methanol derived from unabated fossil gas.
Methanex said that this combination of methanols made sure that "net-zero greenhouse gas emissions on a lifecycle basis were achieved for the 18-day trans-Atlantic voyage".
"The innovative fuel solution offers shipping companies the ability to achieve net-zero carbon emissions today, supporting the industry's transition to a low-carbon future."
Vancouver-based Methanex tells Hydrogen Insight that the methanol (CH3OH) can be classed as carbon-negative because it is produced from RNG derived from captured methane from animal manure that would otherwise have been emitted into the atmosphere. Because methane is 25 times more potent a greenhouse gas than carbon dioxide, the warming effect of the CO2 released during methanol production and when it is burned at sea "are less than the warming effect of the previously captured methane, and the carbon intensity of the bio-methanol is less than zero".
"We're proud to bring the marine industry a tangible solution to transition towards net-zero emissions through our blended methanol product using bio-methanol produced from renewable natural gas at our facility in Geismar, US," said Mark Allard, Methanex's senior vice-president, low-carbon solutions.
"As the world's largest methanol producer, we are establishing a network of relationships with leading renewable natural gas suppliers and assessing other pathways, including carbon capture and storage and e-methanol, to provide solutions for the marine industry and other customers."
Methanol derived from renewable hydrogen is widely regarded as a potential carbon-neutral shipping fuel, with firms such as Maersk investing heavily in the technology.
This article was updated on 1 March to explain how the carbon-negative biomethanol is produced.