In an assessment of potential uses for green hydrogen, ratings agency Moody's has concluded that the prospects for passenger vehicles and central heating are low, but high for power generation, steel, chemicals and long-distance trucking.
And the outlook for green hydrogen in aviation and shipping is described as "moderate".
While it is "theoretically possible to retrofit existing gas networks" to provide hydrogen for central heating, converting them to deliver pure H2 will require "substantial modifications and costs", says a Moody's report entitled Green hydrogen may help carbon transition, but implementation risks are high.
"In addition to being costly, there are significant efficiency losses associated with hydrogen production, making it more expensive than the electricity or natural gas used to produce it," the paper adds.
But it also points out that "switching to fully electric heating systems would likely entail significant costs to build-out generation capacity as well as electric transmission and distribution systems".
For passenger vehicles, the report says that "hydrogen potential is low given competition from battery electric powered vehicles, but fuel-cell electric vehicles (FCEVs) may also gradually gain market share, provided that the technology becomes available for large-scale commercialisation in the foreseeable future".
But it adds: "However, we expect FCEVs will still only represent a relatively small share of the car market by 2030."
Shipping and aviation
The Moody's report explains that is currently possible to power short-haul ships and planes with batteries or fuel cells, but it adds that for longer distances, e-fuels — derived from green hydrogen and captured CO2 — and biofuels "are the most likely alternative fuel sources for oceangoing vessels", while suggesting that sustainable aviation fuel (SAF) made from biogenic sources would be the preferred option for long-haul aircraft.
"As SAFs have similar chemical and physical properties to conventional jet fuel, they can be safely blended with jet fuel, use the same supply infrastructure and do not require the adaptation of aircraft or engines," it says.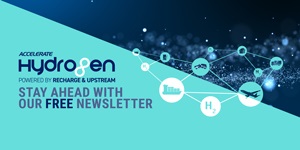 Hydrogen: hype, hope and the hard truths around its role in the energy transition
Will hydrogen be the skeleton key to unlock a carbon-neutral world? Subscribe to the weekly Hydrogen Insight newsletter and get the evidence-based market insight you need for this rapidly evolving global market
Yet it adds: "However, most of these options are not yet cost-efficient or available in sufficient quantities to satisfy demand and lead to large-scale decarbonisation of these sectors. Moreover, these alternative fuels still present storage and safety issue."
Power generation and long-distance trucking
The paper says that green hydrogen has "enormous potential in power generation", explaining: "Namely, given the intermittent availability of renewable energy and in the absence of utility-scale stationary battery storage systems, hydrogen, as renewable energy carrier, is able to absorb, store and then re-inject renewable energy into the power system."
The fact that the round-trip efficiency of renewable electricity to hydrogen to electricity, is only 18-46%, depending on compression/liquefaction and storage choices, is not addressed.
It continues: "For long-distance transport, hydrogen can store more energy in a smaller space than batteries. Fuel cell systems are also not much heavier than diesel engines and the refueling time is comparable.
"There is still competition from battery electric power trucks, especially for shorter distances of less than 300 miles [429km]."
Steel and chemicals
While Moody's states that the potential for green hydrogen usage in the steel and chemicals industries are high, it has some reservations.
"Replacing [existing chemical] processes that use grey hydrogen with blue and green hydrogen would require limited modification and be less technically difficult than adopting hydrogen for new applications," it says.
But it adds that replacing the grey hydrogen used in oil refining with clean H2 "lowers the marginal benefit of using hydrogen to reduce dependency on hydrocarbons".
"Given the limited availability of greener energy alternatives, and sustained downstream demand for and the desired performance features of hydrocarbons in the end products, fossil fuels are likely to remain the primary input for chemical production processes."
It is also pessimistic on how quickly the steel industry can convert to using H2 instead of coal to extract iron from ore.
"The production costs of green hydrogen steel are also a constraint to achieve large-scale commercialisation and greater decarbonisation of steel manufacturing in the short term."
The ratings agency does not believe that large-scale adoption of green hydrogen in the steel industry — or in long-distance trucking — will happen until the 2040s.